A passion for real estate isn't always enough to create a profitable rental property. Most landlords and investors must carefully watch the market and understand the ups and downs. The majority find themselves in the rental market, whether residential or commercial. Though it's not always an investor's first thought when considering wealth in real estate, market trends and forecasts show that single-family homes are actually best for generating high revenues.
Home Ownership Down, Rentals Rising

Homeownership rates in the United States are the lowest they've been in more than 50 years at just 62.9 percent, according to the latest findings from the U.S. Census. There are many reasons why people are choosing to rent – one being rapidly rising housing prices as the market steadily improves.
Millennials are major contributors to the low homeownership statistics since they tend to favor renting over buying. They choose to rent partially because of the high cost of home ownership and restrictions due to their financial obligations.
"With Millennials facing an unemployment rate of more than 8 percent and $1 trillion in student loan debt, they're increasingly renting instead of buying homes," says an article from Forbes. "In fact, the true homeownership rate for 18-34 year olds has fallen to a new low: 13.2 percent."
But Forbes identifies that cost is only a small factor in millennials' decision to choose renting over buying. "Finances aren't the only reason for the dip in homeownership,'" the article continues. "Millennials are recognizing the many benefits of renting — including reasons that have nothing to do with money."
A big thing is they prefer less responsibility. Millennials love that they're only expected to cover rent and utilities every month, and the repairs and stresses of ownership are relegated to the landlord or property owner.
The low rates of homeownership have caused some to raise their eyebrows in concern. However, according to Ralph McLaughlin, a chief economist for Trulia, this shouldn't be a huge worry.
"The drop in the homeownership rate this quarter to historical lows isn't necessarily a bad sign," McLaughlin explained to Bloomberg. "This is because renter households are growing at a much faster rate than owner households, reflecting growing confidence of those who were most likely impacted by the foreclosure crisis."
McLaughlin sees this as a good sign for investors who want to keep the real estate market alive through renting.
Renters Still Want to Live in a House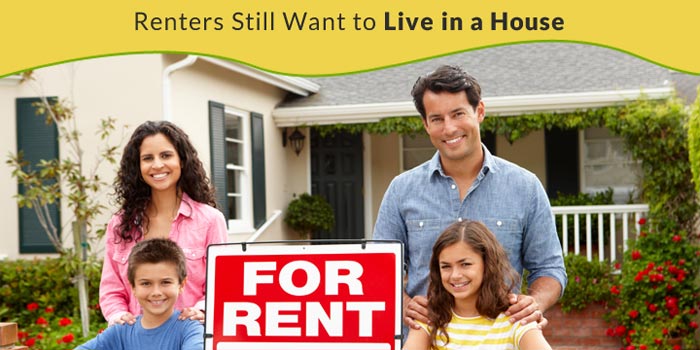 Just because people are choosing to rent doesn't mean they don't want to live in a house. Apartment living is cramped and often doesn't yield a lot of privacy. There's also not much room for those raising families.
"The large majority of people who are renting right now are indeed families, and families like to live in houses so they are independent," says Larry Arth, a veteran investor. "The typical family now is two adults, two children and a dog…So a home works really well for that."
As a direct result, renters are seeking homes rather than apartments. They want the function without the financial responsibility of homeownership.
Single-Family Rentals Rule the Investment Market
Statistics from 2015 also show how the rental market for single-family homes has skyrocketed. Approximately 300,000 of the 460,000 homes built in 2016 were rented to tenants. This was accompanied by a huge rise in rental prices of 3.5 percent, which is well above the market average for inflation.
Perhaps the most important statistic is that single-family rental homes have surged to a 30 year high, according to U.S. Census data. We saw more than 15 million occupied single-family rental homes in 2015, an incredible jump for the real estate market.
Recent reports show that single-family rentals are among the most popular and profitable investments. According to research from RCLCO, about 89.9 percent of all rentals were single-family based. The findings of this study showed that the primary renters were those with families that didn't have the financial incentive to purchase a home. On the flipside, the majority of homeowners were those without kids at home.
This information shows that rental houses that cater to families are in high demand.
People want family-based homes, and even though there's less monthly income from this kind of property than there is from an apartment building, it's considered a much better investment.
What to Look for in a Single-Family Rental Home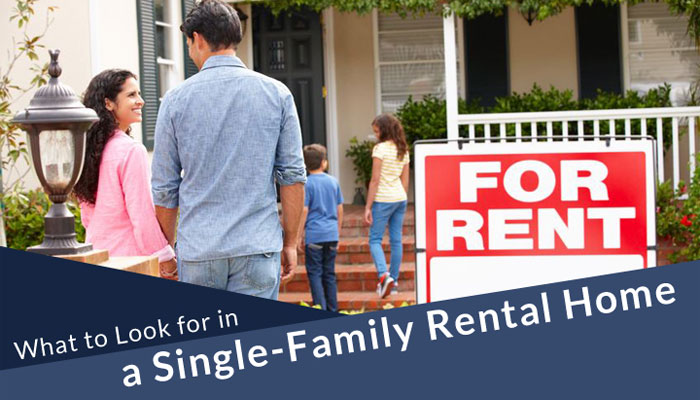 Families looking to rent have unique needs. Obviously, a studio-style apartment won't do well for four people and a pet. As you look to penetrate the single-family home market, here are some things to look for.
Fenced-in Yards: Kids need a place to play, and a backyard that's fenced in is ideal. It's also good for family cookouts and other outdoor activities.
Open-Concept Layouts: Parents like to see their kids while they're in the kitchen or working at the dining room table.
Multiple Bedrooms: Renters with families typically look for a minimum of three bedrooms, but four is ideal. It allows their kids to have their own rooms with one left over for guests.
Multiple Bathrooms: No family likes to share a single bathroom. Most families want at least two and a half. A home with this many bathrooms can raise rent prices significantly.
Cozy Living Spaces: Cozy, but not cramped. Most renters like more than one living space so they can entertain in one area and spend time as a family in the other.
Pet-Friendly: According to Larry Arth, "70 percent of all people who live in a single-family home want a pet." A lot of landlords are skeptical about allowing pets in their properties, but if you do, the demand goes up significantly and you can charge more for your rental.
Great Location: Most people looking for family homes for rent are near the city, but not directly in it. The city can be a dangerous place to raise kids, but renters aren't quite ready to give up the city life. Some of the best markets for single-family home rentals are right outside major cities.
Good School Districts: Great school districts not only indicate a better neighborhood, but they also attract renters who are willing to pay more to live there.
Looking to Invest in Rental Properties? Contact Green Residential Today!
The property managers at Green Residential are excited to tackle any challenge you throw their way. We believe in the profitability of renting, and our real estate and property management services in the Houston and Katy area can help you achieve the monetary success you desire.
For more information about what we offer, contact us today!