When you invest in real estate, things aren't as easy as they seem on television. There's a lot of stress, time, money, and hassle that goes into running a successful rental property, and going it alone makes things even more difficult.
Thankfully, there are property managers who can help carry some of the load. Have you heard some misconceptions that make property management sound unappealing? Well, don't dismiss the process so quickly. Sometimes people mix fact with fiction, providing an inaccurate depiction of what it's really like to work with a property management company.
Before you get too caught up in hearsay, let's debunk some common property management myths:
Property management companies aren't really necessary. I can do everything myself.
Investors often believe they can handle the ownership and management of a rental property on their own. They believe that by being the landlord and doing the repairs, they can make the most of their investment.
However, experienced property owners will say that you definitely need to hire help. It's much easier to hire a single property management company than it is to keep track of a long list of contractors. With one company at the helm, you eliminate the confusion of communicating with a variety of contractors, and can enjoy your profits without hassle.
Their services are too expensive.

One of the most common myths is that property management companies are expensive. However, this is one misconception that's inaccurate in more ways than one.
To begin with, rental properties typically only implement fees when someone is renting the unit, which means you'll always have rental income to cover the cost. Additionally, property managers, like Green Residential, charge a flat fee for all of their services, which is often more affordable than being charged for each service individually.
Finally, your return on investment is typically much higher when you work with a property manager. They work hard to ensure the quality of living for your renters. In turn, you can raise the rent and attract top quality tenants. This increased rent often covers the property management fees and brings in a little extra each month.
Property managers can't possibly preserve my property as well as I can.
It's totally natural to feel you can handle your property best. You've invested time and money, so no one can possibly care about your property quite as much as you.
Although property managers can't match the feelings you have for your property, they can make sure it's extremely well cared for. You might love your property, but when you have other responsibilities, it's difficult to find the time to care for your investment.
Property managers have your best interests at heart, and they have the time and resources needed to keep your property looking great. If your rental property does well, then their business does well. It's a win-win for everyone involved!
My property is located in a small town, so no property managers will help out.
Many rental owners are concerned that their property falls outside a company's sphere of care because it's in a remote location. However, that doesn't mean they're entirely out of luck. Many companies will work with your property no matter where it's located. They may not be able to travel to the property themselves, but they can work with contractors in your area to get the job done.
Property managers will take control of my rental.
Oftentimes, property owners want nothing to do with property managers because they're afraid they'll take control of the property. The owners will no longer have any say, and their income will suffer.
This couldn't be further from the truth. You're in no way signing away your rights as a property owner when you sign a contract with a property manager. You're actually signing an agreement that someone will help you control your tenants.
With someone to monitor interactions with your renters and keep the property well maintained, you'll be able to handle problems more efficiently as they come. Property managers can often spot problems before they happen, helping you to control of the situation, before it becomes a major issue.
I can find renters better than my property managers can.
You might be a great judge of character and have a history of putting good residents in your home, but that doesn't mean you should attempt the process. Renting is a huge liability, and one bad renter can destroy the property.
In addition, there are a variety of legal criteria that many owners don't know about, such as the Federal Fair Housing and HUD guidelines. Also, most owners don't conduct background checks or credit checks. These are important because they help prevent illegal activity and make sure your renters will pay on time.
A professional management company will know how to handle the above situations and more. In addition, they also have experience screening clients, which means they know what to look for in good tenants, something you might miss. This keeps you legally and ethically covered when it's time to fill a vacancy.
Property managers won't handle my single-family unit.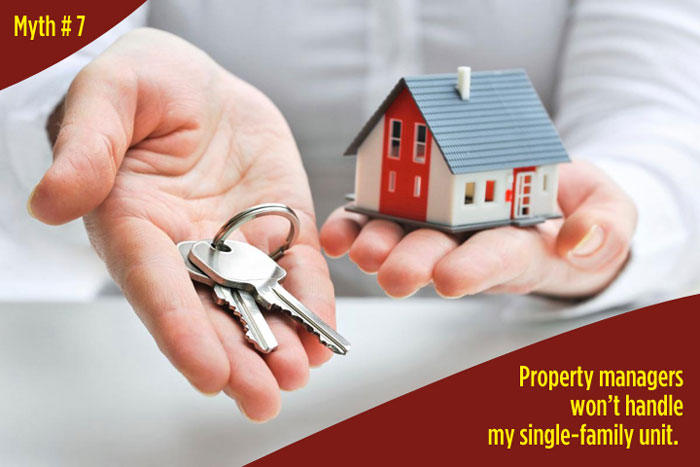 A major misconception in the management world is that property management companies are only made to handle large, multi-family properties. However, they're equipped to handle units of all sizes, from single family units to large complexes.
Everyone deserves the benefits of a good property management company. They can make a difficult project infinitely easier, and it's always better to do your research before committing to the right one.
Contact Green Residential Today!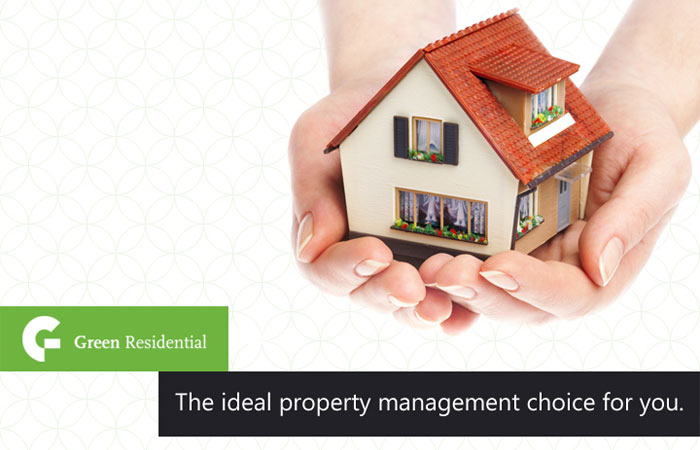 If you own property in the Katy or Houston area, Green Residential is the ideal property management choice for you. Our expertise can handle everything from tenant screening to property maintenance. Our rates are affordable and we guarantee high quality service every time.
For more information about what Green Residential can do for you, contact us today!