Katy, Texas is an ideal place for property management; there's an ample population, plenty of purchasing opportunities, and ideal prices to ensure a healthy landlord-tenant relationship. However, being a landlord (especially for the first time) can also be stressful. There's a lot to manage, and if you aren't careful, the stress of your work could interfere with your health.
The Importance of Work-Life Balance

Even if you're only a landlord on the side, with a separate full-time profession, you can think of your landlord status as a job in and of itself. With that in mind, you'll have to prioritize your work-life balance, or else you'll suffer the consequences of poorer physical health, and possible burnout from the entire ordeal. If you find yourself struggling to fill vacancies, running around making repairs, and resolving tenant disputes, you'll end up more than frustrated. Fortunately, there are some strategies to reduce the stress you encounter as a landlord.
How to Make Things Easier
These are some of the best strategies you can use to make your life easier and reduce your overall stress as a Katy landlord:
Start with the right property. First, before you even get started on a path as a landlord, you'll want to choose the right property. There are hundreds of different types of properties; some single-family, some multi-family, some complexes, in all different types of neighborhoods and in all different types of conditions. If you're experienced and willing to put in the effort, the doors will be open to you, but if you're aiming for a more low-key tenure as a landlord, choosing a solid property in a good neighborhood with minimal upkeep necessary is a good bet. This may not reap you the highest profit, but it will give you the fewest headaches.
Find the right tenants. It's not easy or fast to find good tenants, but it's a part of the process that's too important to skip over or rush through. Good tenants will be able to pay you on time, keep your property in relatively good shape, and minimize the number of disputes and issues you have to deal with. If it takes an extra month to find a good tenant, extending the vacancy of your property, it may be worth it in extra benefits that your ideal tenants will provide. Go through a careful screening process, and get references if you can.
Establish a clear, concise lease agreement. First-time landlords tend to de-prioritize lease agreements, seeing them as more of a formality than anything else. But a well-drafted, specific, and carefully worded lease agreement can save you a heap of trouble. Explaining all your expectations and the terms of the agreement up front can help you establish the foundation for a much more rewarding landlord-tenant relationship, and avoid any legal disputes that may arise at a later date. Take the time to explain anything that's not crystal clear before your tenants move in.
Set priorities. There will always be something to take care of on your property, whether it's a major renovation or just mowing the lawn. You'll only have so much time in the day to deal with these things—especially if you have a full-time job on top of your landlord responsibilities—so be sure to set clear priorities for your work. There are some things that can be delayed, and others that need to be taken care of quickly, so learn the difference and hold yourself to that standard.
Build relationships with reliable experts. It's hard to do everything by yourself; you may have some basic handyman skills, but eventually, you'll need experts in fields like plumbing, siding, extermination, etc. Try to network and get to know reliable, affordable experts in as many categories as possible. Being able to get work done quickly and without paying too much money will make even the most stressful jobs more manageable. Finding these contractors and experts isn't easy, but it's worth it.
Handle disputes quickly and resolutely. Disputes are going to arise, no matter what. You can have a perfect tenant and a perfect property in a perfect neighborhood, but eventually, you'll encounter a situation where a tenant isn't happy, your property isn't in good condition, or something happens that demands your action. It's easy to pass these off as insignificant or non-urgent in the moment, but the better course of action is to handle disputes as quickly and as completely as possible. The longer you let them fester, the worse they're going to grow, and if you try to correct them with half-measures, you'll end up sabotaging yourself with more work in the long run.
Delegate responsibilities. Of course, you don't have to go it alone as a landlord. If you're investing in a property with other people, you can pool your resources and delegate effectively to get more done and split the burden of challenges, such as when something goes wrong at the house. Beyond that, you can always enlist the services of a property management company, which can be quite affordable if you know where to look. Property management companies tend to have more experience than individual landlords, and access to more resources, so you can worry less about what's happening at your property, and more about your own life.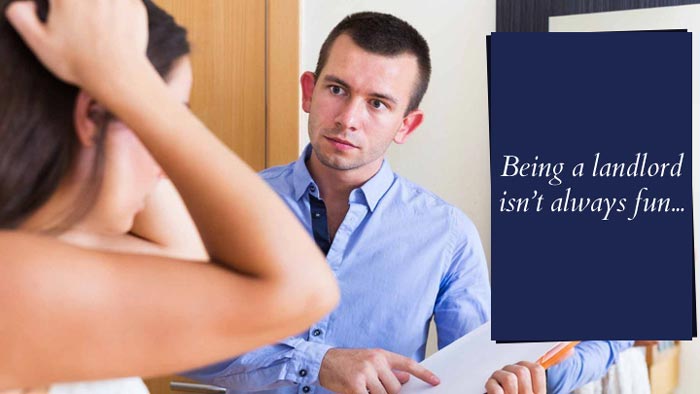 Being a landlord isn't always fun, but it is an interesting and (usually) profitable endeavor. The more time you spend perfecting your approach, making the best investments, and reducing the overall burden of stress on your life, the more likely you'll be to have a healthy and profitable run as a landlord.
If you're interested in reducing that burden by enlisting the services of a professional property management firm, contact Green Residential. We have the experience and resources necessary to keep your investment operational and running smooth—so you don't have to worry about it.