In many parts of the United States, the ground is still covered in snow, and will be until April. In Texas, snow doesn't fall often, and if it does, it doesn't last. For that reason, it might seem like there's very little to do to prepare your yard for the coming warmth of spring and summer. Your yard might look sad and brown now, but you know it's only temporary, and your grass will return to its green glory once it warms up.
Grass is extremely resilient, and it can handle a lot before it finally dies. But believing that there's nothing that can be done before spring to prepare your yard would be false thinking. If you take a look at grass that hasn't been maintained before spring, you'll see brown, dead spots riddled throughout. There are ways to minimize these negative effects to help your grass grow in thick and strong, but there are many important steps you must take to get it that way.
Step 1: Aerate Your Soil

If there's one thing that winter will do to your Houston lawn, it's compact it. When it's cold out, the ground becomes more dense, which makes it difficult for water and air to access the roots and for them to grow unhindered. It will naturally begin to loosen up on its own, but you can expedite the process and keep your grass healthy by aerating your soil.
Grass aeration is the process of using a machine to extract small plugs of soil from the lawn and deposit them on the ground. Over time, these particles of soil will break up and sink back into your grass, so they won't be noticeable, but it will allow your grass system to breathe. It's important to complete this step after the ground is thawed, but before it reaches 60 degrees Fahrenheit.
There are a couple of ways to do this. For starters, you can rent a core aerator at your local hardware or equipment rental store, and do the aerating yourself. However, this piece of machinery is quite heavy, and you may not feel comfortable operating this rotary tiller-like machine on your own. If that's the case, feel free to hire a property management company to handle it for you.
Once your soil has been aerated, your grass will quickly begin to grow, coming in thick and healthy with fewer brown spots.
Step 2: Mow the Old Grass Low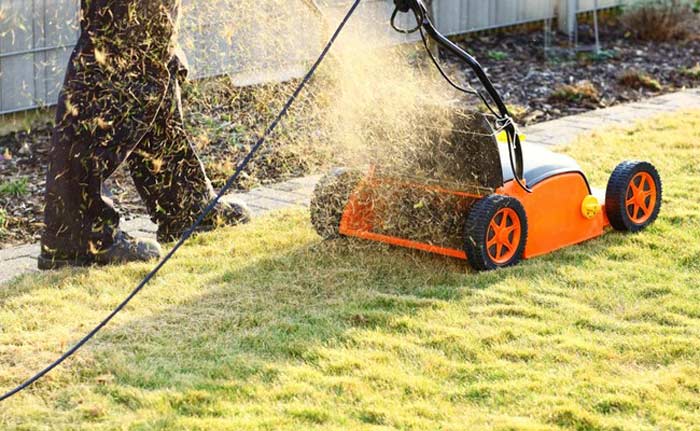 This step is very important for your Houston lawn, since you'll have warm-season grass planted. This type of grass includes Bermuda, buffalo grass, centipede, St. Augustine, and Zoysia, among others. Warm-season grass is coarser than cool-season grass, like bluegrass or fescue, which makes it tougher during the winter months when the grass is brittle. This kind of grass becomes dead on the end and accumulates stray stems and leaves, which can be quite the eyesore.
Shortly after you aerate your lawn, mow the old grass low to remove much of this debris and remove the dead ends. Bermuda lawns should be cut to ½ inch and other types of grass should be cut to one inch long. Leave the clippings on top of the grass to decompose and act as a natural fertilizer. If you use a lawn mower with a bag that collects your grass clippings, either remove the bag for this part or spread the clippings on the grass after you finish mowing.
This step is very important for several reasons. For starters, the dead grass and natural debris can create a heavy thatch that makes it difficult for water and nutrients to penetrate the soil and access the roots. This promotes disease, leaving brown spots on your lawn. In addition, mowing the grass short allows the sun to reach the soil and warm it, allowing your grass to grow more quickly and grow in with a healthy green color.
Step 3: Fertilize and Prevent Weeds

It's crucial that you begin fertilizing early on in the season. Winter can wreak havoc on your lawn, particularly if you walked on it a lot or had heavy stationary objects on it throughout the winter. This could lead to bald, brown spots that destroy the aesthetic appeal of your lawn.
Once the temperature reaches 70 degrees Fahrenheit, it's appropriate to begin fertilizing your lawn and administering herbicides to stop weeds that begin to grow when the temperatures increase. Both of these applications are essential, but they can do more harm than good if not applied properly.
If you're applying fertilizer on your own, it's best to use no more than a pound of a slow-release nitrogen mix for every 1,000 square feet of your lawn. Avoid applying this fertilizer too early or too late in the season, since extreme cold or heat can cause a reaction with the fertilizer that stresses the grass.
In addition, it's a good idea to apply a pre-emergence herbicide in late winter (sometime between January and February) that will prevent weeds from springing up when it starts to warm up. This will prep the soil and activate when the air warms and you water the grass again in spring. Both of these steps will keep your grass looking healthy and green just in time for the warm weather.
Step 4: Reseed, Prune, and Spot Treat as Necessary
Grass doesn't grow in perfectly every spring, no matter how many precautions you took beforehand. You may need to make some adjustments to have it grow back healthily. For starters, look for any bald spots and reseed those areas. Begin by eliminating the item that caused the bald or brown spot, whether that was a disease, insect, or heavy object sitting on the lawn all winter. You may want to enlist the help of a professional for this one.
From there, focus on the general beautification of your lawn. Prune areas that are growing unevenly, and apply a spot treatment to areas with excess weeds. Polish up your lawn ornaments, wash away mud and dirt from the sidewalks, and make alterations to your yard decorations to match the changing trends. Your lawn will be as beautiful as the work you put into it this spring.
Let Green Residential Do Your Landscaping For You!
If all of these steps sound like too much work for you, don't sweat it. Let Green Residential take care of all your landscaping maintenance for you. We can clean, repair, and restore your lawn to its former glory. For more information about the services Green Residential provides, contact us today!