In an ideal world, all your tenants would be calm, peaceful, soft-spoken individuals who respect your property, always pay the rent on time, and never cause a fuss. But too often, this is not the case.
Though some of the worst clients are the ones that create an active disturbance — such as causing repeated damage to your property or disturbing your other tenants on a regular basis — they also offer some of the most straightforward paths to resolution. All you have to do is give them ample warning to correct their behavior, and if they don't correct it, you file an eviction.
It isn't fun, but it is a direct route toward a potential solution. Other tenants make things far more complicated.
Less Straightforward Problems
When a tenant's behavior is annoying, or interferes with your ability to do your job, it might not be bad enough to warrant any financial or legal action, but it can be significant enough to warrant some kind of corrective measure.
For example, it's common (and often good) for tenants to be vocal about their complaints—you need to know when there's a leak, or a problem with the heating, or when another tenant is breaking the rules. But sometimes a tenant will bring up things that don't merit a formal complaint, and demand action when it doesn't really need to be taken.
So what do you do when a tenant begins to make unreasonable complaints?
Strategies for Dealing With an Unreasonable Tenant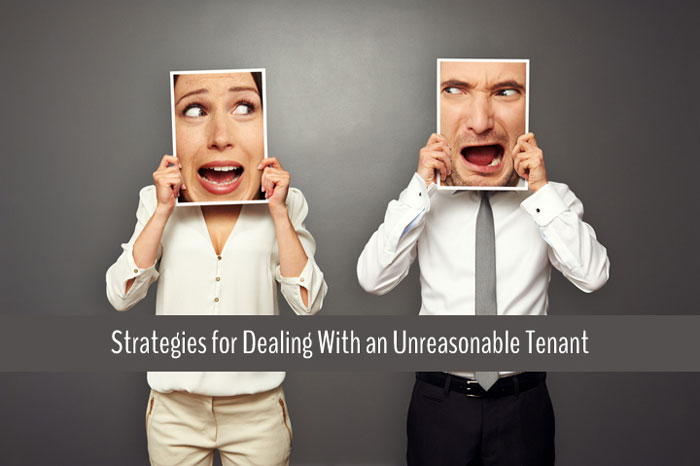 There are seven strategies that can work for this issue, and here they are in escalating order:
Know who you're dealing with.

This can be difficult if your tenant is new or you aren't otherwise familiar with him or her. Ask yourself if this is the type of person who raises unreasonable complaints all the time, or has this person historically been reasonable in his or her requests? If the latter's the case, you might want to try working with the person to solve the problem for the sake of maintaining the relationship. One "unreasonable" request, if isolated, isn't a big deal in the long run. But if this is part of a pattern of unreasonable complaints, you'll want to find an alternative resolution.
Acknowledge the complaint. This is a good step to take no matter what your perspective is, or what your history with the tenant has been. Leaving the complaint unanswered is probably the worst thing you can do: This can breed resentment, because it inspires the tenant to think you're uncaring or unavailable. Instead, be proactive and immediate, and simply acknowledge the problem exists; you don't have to commit to anything further at this point. For example, if someone calls you, simply hear him out. If the person texts you, simply respond with something like, "I see. I'll look into it." This will show the tenant you care about the situation in general, and possibly even about them in particular, and will buy you time to figure out your next move.
Allow time for the tenant to cool off. Sometimes, tenants will realize they're being unreasonable after they've lodged a complaint and let it simmer for a while. For example, a tenant may be angry and irritable after a rough day of work and complain about a noisy neighbor who wasn't really being that loud. If you give the complainer some space between the original complaint and your possible resolution, he or she may come to terms with the fact that the complaint was initiated during an emotional peak, and the person might have overreacted to an innocuous situation. This doesn't always work, but it's worth trying.
Avoid asking "how high?" A common scenario shows one person saying "jump," and the other responding with the question: "How high?" This immediately implies the landlord will follow instructions, and possibly offer to do even more to keep the requester happy. Don't do this; it may open the door to further unreasonable requests in the future. You don't have to ignore the communication or even refuse to try to help, but don't go out of your way to placate the tenant when it's not yet clear there's a real issue at stake.
Work to find a compromise.

Try to define the situation as objectively as possible, and work with your tenant to find a mutually agreeable solution. For example, let's say your tenant is frustrated with the performance of the appliances, even though they're only a few years old. Rather than buy new appliances or utterly ignore the request, you could offer to test the equipment for efficiency, or have the items evaluated by a third-party repairman to demonstrate that they're still operating at high efficiency.
Be straightforward about your perspective. If the compromise isn't working, or the tenant has repeated the tendency to make unreasonable requests to the point where you're losing patience, take a step back and communicate your perspective in simple, clear terms. Arrange for a phone call or a sit-down, and tell the person point blank that you feel the series of requests has drifted outside the reasonable and expected realm of tenant norms. While some tenants will likely turn defensive about this, others may take what you say to heart. In either scenario, you've made your stance clear, which should have an effect on the rate at which you receive further complaints.
Create a formalized plan. If your straightforward, earnest conversation isn't doing anything to resolve the situation, you'll have to institute some kind of formalized plan to set new expectations for your tenant, or otherwise document your reasons for passing on certain requests. For example, you could come up with a written outline of which types of requests are reasonable and which are not; or you could give your tenant a formal notice that any requests pertaining to X, Y, and Z subjects will be ignored starting on a certain date.
This situation can be notoriously difficult because it isn't as pressing as something that's obviously degrading the value of your property, and there's a blurry line that makes it hard to tell whether the behavior demands intervention or resistance. Use the above strategies to turn the situation to your advantage, and gradually work to reduce the number of unreasonable complaints you receive.
If you're interested in finding better tenants in the Katy area, be sure to contact Green Residential services. We'll get in the right tenants for your property, and handle all your incoming complaints so you don't have to worry about them.