Selling your home now is quite a bit different than it was ten years ago. It used to be that agents talked to other agents, and consumers didn't do much. The most they did was drive down streets looking for great deals. Now, homeowners pick up their phones, tablets, or laptops to peruse pictures and look for great deals. The housing market has improved substantially since the 2008 crash, so it's time to jump headfirst into the market if you want the best deal. Research from the National Association of Realtors shows that 89 percent of buyers rely on online tools to find their dream homes. As a result, it's all about directing your marketing efforts towards the consumer.
"Before the recession, agents were still marketing to other agents," says Brian Balduf, marketing pro for a real estate firm in Chicago. "Now you have to market directly to consumers. … With the market coming back, you're seeking all kinds of new apps and technologies."
Overall, it's difficult to sell a home without marketing it on the internet first. If you want to stay competitive, you'll try using some of these technology tools to sell your home for the right price at the right time.
High Quality Images
Selling a home online nowadays is all about the images. If a homebuyer can't walk through the home in person, they want to see quality images of the interior and exterior. Hire a professional to take these photos. A professional real estate photographer will know the best lighting and angles to show off your home's best vantage points.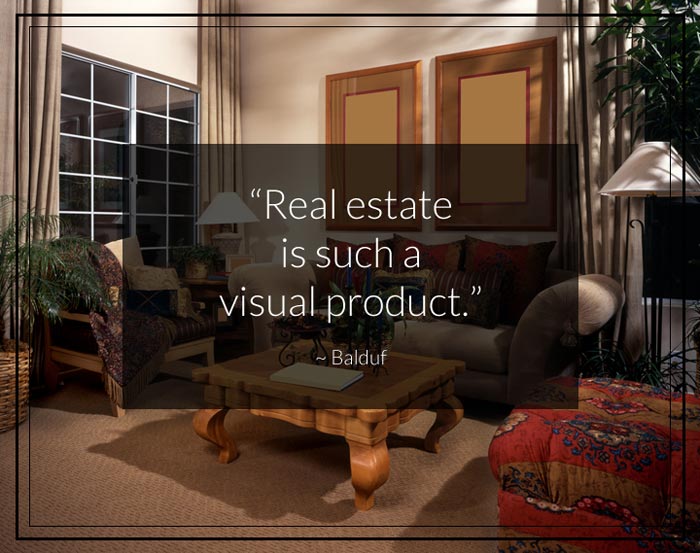 "Real estate is such a visual product," says Balduf. "If the listing doesn't have strong visuals … skip, skip, skip. Younger buyers don't expect anything less than the best online. The days of just having a crummy photo in the MLS are over."
Technology makes it possible to deliver the best possible photos with editing services and digital uploading capabilities. Another really cool piece of technology is virtual staging. This is the digital enhancement of a home's listing photos to show what the rooms would look like with furnishings and décor. It costs a small fee compared to the thousands you'd spend to have a professional stager decorate the home for your photos, and it can go a long way towards making your home look more livable.
Video Tours
Another powerful imaging tool is video, which can be used to show a virtual tour of your property, both inside and out. It provides an excellent interaction for the online viewer who can't otherwise walk through the home.
Again, ask a professional to take care of this portion of your marketing. Production companies will know how to get the best angles and footage, as well as the time needed for each frame and the transitions between each.
The data is enough to prove that video marketing is the newest frontier in real estate. Research shows that 50 percent of interactivity online is video based and consumers are 41 percent more likely to click a video thumbnail than a picture or link to another website. Videos also receive 403 percent more inquiries.
Interest Maps
Include a map of the home's location on your listing, as well as a map of interesting points in the area. The majority of listing sites include Google Earth maps, so that viewers can see the physical locations of properties.
You can also include a plugin for interest maps that will show the home's proximity to shops, schools, landmarks, etc. This can be a major selling point for buyers who aren't able to visit the property in person.
Syndication of Listing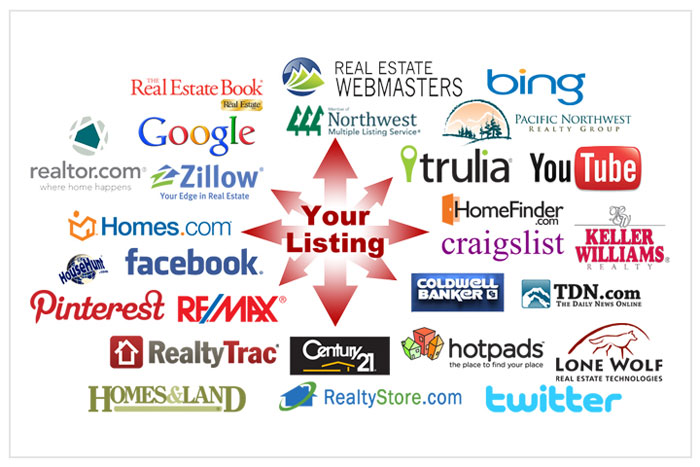 Sites like Zillow, Trulia, and Realtor are enabled for listing syndication. This is a concept that allows multiple sites to receive automatic feeds from the original listings. In other words, it collects data and feedback from the original sites, based on the interactions of consumers.
It will show things like number of clicks, time spent on page, and who made appointments. It can also show heat maps to reveal where users were most drawn on the page. The information is invaluable for generating results sellers want to see in your marketing efforts. It shows you where you should be spending and where you should be cutting back.
Real Estate Apps


The ability to look at listings on a smartphone is invaluable to younger homebuyers who are constantly connected to their technology. The major websites like Zilllow and Trulia have apps that make it easy to view your listing, so it's important to post your home on these sites. It's also important that your content be optimized for mobile.
According to Zillow's chief marketing officer, Amy Bohutinsky, an average of 600 million homes are viewed on mobile per month, which is 223 home per second. "It's important to pay attention to your home's Web appeal, especially on mobile," she says. "With so many buyers searching for homes on a mobile device, sellers need to make sure their listing looks great on a smartphone. You should have lots and lots of photos, using a high-resolution camera, because that's what looks best on mobile."
Social Sharing
Your social networks are also an amazing tool for spreading the word about a property. Social feeds have become so interconnected that it's not just your friends who will see your posts, but their friends, too. A single post can reach around the world if it receives enough engagement.
One of the most important statistics you can remember when selling a home is that 93 percent of social media traffic on realtor websites comes from Facebook. This social media platform will be your greatest tool for marketing your property and attracting consumers to your home.
Interconnectivity
Did you know technology can play a large role in selling your home outside of typical digital marketing practices? Focusing on the technology and interconnectivity of your home before it sells can also make your property more appealing. The more smart home features you have, the more power you have.
Things like a smart audio system that plays music in any room, motorized window coverings, a smart security system, and other high tech gadgets can help you sell faster.
Contact Green Residential for a Free Listing Analysis
As we've identified, those looking to sell their homes should market towards the consumer rather than the realtor. For that reason, it makes sense to forego the typical agent for a much more affordable and flexible solution. At Green Residential, we'll offer a flat rate fee for our services instead of commission, which can save you thousands on your sale. For your free listing analysis and quote, contact us today!