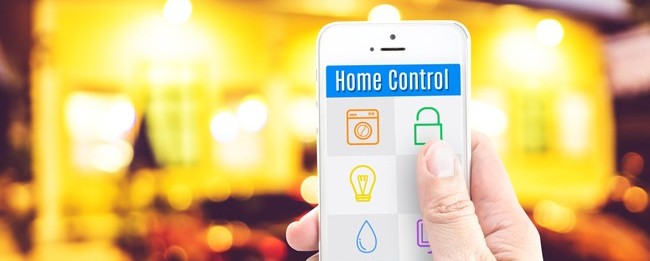 It's true that many renters don't give much thought to the eco-friendly side of the home they're renting. They prefer to look at cost variables and comfort. But many more renters take it into consideration when they purchase a home, and a green home appeals to an extremely wide audience.
For renters, a greener home means that they are not only doing their part to help the environment, but also that they're reducing energy costs. Green improvements aren't always attractive, but lucky for you and your renters, some of today's most popular green trends are also some of the most popular home trends.
1. Small Homes

Today, the average size of the family home is dropping, which is one of the best ways to reduce carbon footprints. This is thanks to several factors. The economy, though slowly getting better, is forcing people to seek a more affordable, smaller home. Another factor is the large amount of baby boomers looking to downsize to a smaller home that's easier to manage.
More and more people are also becoming interested in the "tiny house movement," which is essentially a trend in which an individual downsizes from the typical home size of 2600 square feet to a home that is 100-400 square feet. In order to live functionally in a home this size, it requires a significant amount of energy efficiency and creative space utilization. It's not for everyone, but it significantly cuts down on environmental impact for those who participate.
2. Better Lighting and Appliances

Better lighting is one of them most popular trends today, and it's great for the environment. When people focus on the lighting in their home, they think about both the aesthetic appeal and the energy efficiency of the bulbs and electricity they're using. This leads consumers to seek LEED certified and Energy Star approved lighting when they make changes to their lighting systems.
And who doesn't love all new stainless steel kitchen appliances? Thanks to pushes from environmental committees around the world who are working with Energy Star to create more energy efficient appliances than ever, any time you get new appliances, they'll most likely be quite a bit more efficient than your last set.
3. Smart Home Features

Home automation is all the rage, and it's not just convenient for your lifestyle. It's also convenient for the environment and your budget. The average home without home automation spends about $2000 a year on energy costs. Those with smart home automation can cut that bill in half.
The biggest reason for that significant cut in spending is that the smart features cut down significantly on wasted energy. No more leaving the lights on or the air conditioning running while no one is home. Smart automation eliminates wasted energy and money, while wowing your tenant with the fancy features they can easily control from their smartphones.
4. Bamboo Materials
This eco-friendly material is an extremely attractive and popular wood, particularly for flooring. Bamboo is made entirely from a renewable energy source, and is also becoming a popular choice for cabinets in bathrooms and kitchens.
When looking to add bamboo materials to your home, pay close attention to the quality. Bamboo is beautiful and sustainable, but it isn't the sturdiest product in the world if you don't get it from a quality manufacturer. Do your research before purchasing the materials for home improvements. Find high quality bamboo that's processed in a sustainable factory.
5. Water Conservation Features
Wasted water isn't cheap, nor is it good for the environment. Water conservation is an extremely important topic today with all of the drought-ridden areas throughout the world, and it's easy to do your part to conserve water if you use the features popular in homes today.
Water conservation features include low-flow toilets, water saving showerheads, timed sprinklers, composting toilets, smart water control, and even smart toilets. Each of these popular features does its part to use water properly and avoid wasting the excess.
6. Solar Roofing
This is a particularly popular trend in sunny areas like Houston. As one of the fastest growing home trends in the nation, solar roofing is an incredible advancement, both for sustainable roofing and for improved energy conduction.
Most people have avoided solar roofing in the past because of the cost, but the cost is significantly lower now for solar roof shingles and panels than it was at its inception in 1977. In fact, it's about 100 times lower than the initial cost. Today, consumers can install solar roofing for a new direction in clean energy at a cost that easily pays for itself.
This trend is particularly attractive in rental properties for both the renter and the owner. The tenant can enjoy significantly reduced monthly energy prices and the owner can enjoy raised rent and a happier tenant because of the value it adds to the home.
7. Window Treatments
From more energy efficient windows to indoor shutters, the most popular window treatment trends are also some of the most efficient trends. Property owners looking to significantly reduce their wasted energy and cash will find a vast improvement when they switch to energy efficient windows and window treatments.
Most energy efficient windows today have tighter seals and a special glazing on the glass that keeps the exterior air outside where it belongs. Furthermore, popular window treatments such as shutters, blackout curtains, and smart curtains are excellent ways to diminish outside air and light permeation, which can reduce wasted energy and costs.
8. Passive Home Construction
Passive housing is a fairly new trend that involves focusing on reduced energy consumption and improved energy efficiency. This construction goes beyond making a few eco-friendly renovations. It revolves around making every aspect of the home more energy efficient, and it can save you about 90 percent on energy, according to the Passive House Institute.
Thanks to the environmental movements that have gained particular power over the last few years, passive housing is one of the most popular trends for building and renovating homes. Many find it a little too extreme, but others find that the saved energy costs and reduced carbon footprint are well worth the effort.
As the world becomes more and more environmentally aware, there's no point in fighting it. Move with the trend and make your rental property a more attractive option than ever with these trendy, eco-friendly improvements. Advertising your home as having some of the latest green improvements, will easily attract more high-end renters.
Eco-friendly design has its perks, but it can also be difficult to manage and implement. That's where a reliable property management company like Green Residential comes in. We specialize in helping your vision for a well-maintained, high-end property become a reality with our team of experts. If you're looking for a crew who is as interested in the success of your property as you are, contact us today!