If you're managing an apartment building or group of properties, what can you do as a property manager to foster community between tenants? While some property managers don't see this as their place, viewing it as meddling or overreaching, creating a spirit of neighborliness has advantages for everyone. A strong community can greatly increase tenant satisfaction and loyalty, and can also reduce disputes between residents. Overall, a strong community makes your properties more appealing.
What's more, it doesn't take elaborate measures to boost community. There are lots of simple, inexpensive ways to show your appreciation for tenants and encourage them to get to know each other.
So call up the neighbors – here are six fun activities that can help transform your properties into communities.
Foreground Communication

If you don't have an established method of communication for keeping your residents up to date, you'll need to get one started before you can get any community activities up and running. Tenant newsletters are a great way to do this, and are easy to make with a template or with the help of a graphic designer. In fact, creating the framework for the newsletter is half the battle. You already have plenty of things to fill it with.
Make Use of What You Have
Before launching a community event that requires a major capital investment, gauge interest using the spaces and resources already at your disposal. For example, if your properties have a communal swimming area, you might have a poolside barbecue one afternoon or grab an inexpensive net and hold a volleyball tournament. The space is already there, so make the most of it.
Another great way to make use of the space you already have is to hold a drive-in or picnic movie night. With some speakers and a rented projector, you can play the movie on the side of a building and invite everyone out to enjoy popcorn and a film. This is also a great opening activity to break the ice among neighbors who don't know each other yet.
Celebrate Appreciation Days
Anyone using social media can tell you that there are dozens of made up holidays on the calendar, such as Best Friends Day or National Pet Day. And while they may not be days you can take off from work, a lot of these silly days make for great opportunities to show your appreciation to your tenants and to do something special as a community.
January 23, for example, is National Pie Day (not to be confused with Pi Day in March). This a great opportunity to offer tenants coupons to a local bakery or hold pie eating/baking contests with your residents. Everyone loves pie!
There are endless ways to mark the year with your tenants. Plant new trees for Arbor Day or Earth Day in June, host a National Ice Cream Month sundae bar in July, or come together to support a local food pantry in November. Your residents will feel appreciated and enjoy each other's company.
Start a Garden
Gardening seems to be increasing in popularity as a sustainable and affordable way to eat healthier, and no matter where your properties are located – even in the middle of a major city – there are ways to adapt space for gardening. If you're short on fertile ground, for example, you could build raised beds as a community, or take note of the green building campaigns that encourage rooftop gardening.
If you help your residents get a garden going, you might throw a harvest party at the end of the season, host a skill share where people can learn new recipes or how to can and preserve their food, or host a healthy community meal. Gardens make a great gathering space that residents of any age can enjoy.
Have a Garage Sale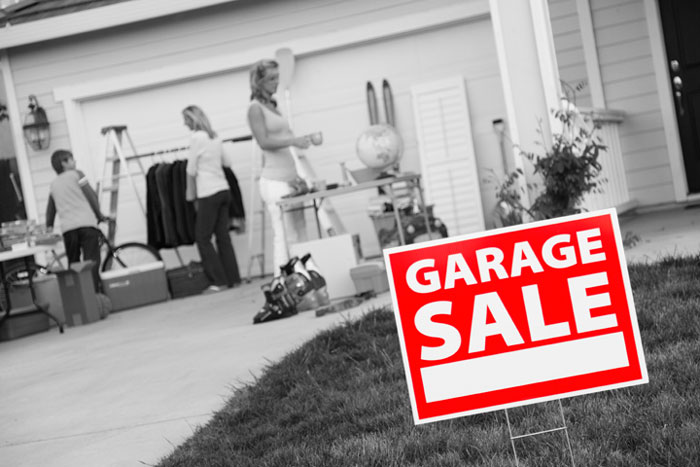 Garage sales seem to have declined in recent years because people sell a lot of their old belongings on the internet through eBay, Mercari, and even local Facebook groups. At the same time, however, people still want shopping convenience and though you may not need to leave the house to place an eBay bid, you have to wait around for a delivery, as opposed to the instant satisfaction of shopping in person.
Garage sales are the perfect middle ground between these situations, particularly if you host a garage sale as a property group. Advertised to the neighborhood as a group of families holding a sale in the same place, your residents get to enjoy some time together, de-clutter their homes, and make a few dollars – and probably more than they would make on their own, since more people will come out for a group sale.
Don't Forget the Staff
Finally, you can't build a cohesive, friendly community among your residents by keeping the staff in the shadows, so be sure to include them in some of your efforts too. Make sure to introduce staff members like the maintenance crew to all the residents – you might have a staff member of the month in your newsletter or hold a bagel breakfast to thank the landscaping crew. Your community relies on the staff and should know and trust them, but you need to help make the introductions.