Tenants and landlords are notorious for bickering over small issues and trying to shift blame or responsibility to the other party. One area where we commonly see this is rental property yard work. Who is supposed to cut the grass, pull the weeds, and ensure the property looks good? Depending on who you ask, you'll get very different answers.

Why Does Yard Work Matter?
It's easy to feel like yard work isn't a big deal. After all, do a few stray leaves, shaggy grass, and weeds in the flowerbed really have a negative impact on the neighborhood? Well, they may. It all comes down to two key words: curb appeal.
"Curb appeal affects a small part of your property's value but when it comes to influencing tenant's rental decisions and tenant satisfaction, it packs a surprisingly large punch," property manager Erik Olsen says. "Surveys from real estate companies around the United States consistently show that curb appeal impacts buyer and tenant decisions, the perceived value of the home, and can boost the satisfaction and mood of tenants in the apartment."
If yard work is an afterthought and nobody is paying attention to things like clogged gutters, overgrown grass, rampant weed growth, and dying shrubs, then tenants, investors, and county officials are going to take notice.
Determining Responsibility and Setting Rules
The good news is that you can avoid devaluing your property – and actually enhance its value – by tending to basic landscaping needs. But whose responsibility is it? Well, here's what you need to know:
1. Ultimate Responsibility is the Owner's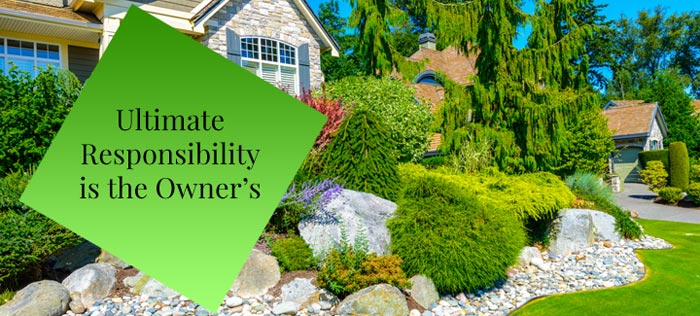 The bottom line is that the owner is ultimately responsible for landscaping upkeep. Think about it this way: If the grass grows six inches high and neighbors start complaining to city officials, who are they going to call? They don't care that your tenant is letting the grass grow – they're going to call you and threaten to initiate a fine if you don't cut the grass immediately. Thus, you're the one responsible.
2. But You Can Require Tenants to Do Yard Work
However, just because you – as the landlord – are ultimately responsible doesn't mean you can't require your tenants to handle certain tasks. It's like a parent-child relationship. While the parent is ultimately the one who has to take care of the yard if neighbors or city officials complain, the parent is well within his right to demand the child take care of it. (Otherwise, they may be grounded, lose allowance privileges, etc.)
While you can't ground a tenant for refusing to cut the grass, you can include clauses within the lease agreement that allow you to enact a fine if they don't follow the requirements that are listed.
3. Only Expect Basic Chores
If you're asking tenants to handle yard work in the lease agreement, make sure you're being realistic. They should only be asked to handle basic chores such as mowing and edging the lawn, trimming shrubbery, pulling weeds, and watering the lawn. Things like cutting down trees, planting flowers, and sodding grass aren't a tenant's responsibility.
Furthermore, if you're going to ask tenants to do yard work, it's a good idea to provide them with some basic equipment in a garage or shed. This includes lawnmowers, leaf blowers, and pruning tools. If you're requiring yard work and won't be giving tenants these items, make sure they know in advance.
4. It's Sometimes Smarter to Do it Yourself, Though
While you can certainly include language in the lease agreement that requires tenants to perform yard work duties, don't automatically assume that this is the best solution. Tenants often cut corners and merely do enough to get by.
"About 80% of the tenants in properties we manage at least cut the lawn on a regular basis, so we don't receive citations from municipalities," says one property manager. "Really though, only 20% of our tenants maintain their yards properly – weeding, trimming, raking and cleaning gutters as required by their lease agreement."
In the long run, this lack of attention compounds and can create major problems down the road. As a result, it's often better for you to do it yourself or hire a professional service so that you know the property is being cared for in the right manner.
5. Try Getting a Bulk Rate on Professional Lawn Care
If you have a large number of rental properties and don't have the time or money to handle lawn care on your own, you can always offer tenants the opportunity to pay a flat monthly fee for yard work.
Contact a local landscaping contractor and ask them if they offer bulk rates for lots of properties in the same area. You can probably get a fantastic deal and simply tack that fee onto each tenant's monthly rent. Some tenants will deny this service, while others will take you up on it.
6. Check Out the Yard During a Walk Through
Just as you examine appliances, walls, floors, and other aspects of the home when conducting a walk in prior to move-in or move-out, you should walk the exterior of the property with the tenant as well.
When a client is about to move in, take pictures of the current condition and clearly relay expectations. When a client is prepared to move out, make note of any landscaping responsibilities they didn't follow through on and ask them to either correct the issue or accept a fine.
Let Green Residential Help

Are you a rental property owner in the Houston area? If so, Green Residential is here to help. We are one of the more experienced property management companies in the city and are committed to helping landlords like yourself save time, money, and frustration by handling all of the details associated with managing properties. Yes, we'll even make sure the yard gets cut on time.
If you're interested in learning more about our property management services, then please don't hesitate to contact us today! We look forward to developing a healthy business relationship.