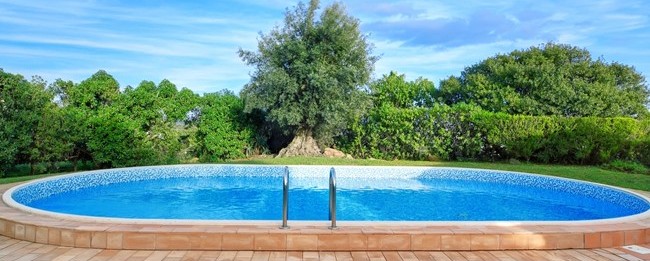 Anyone who's lived in the Houston area knows that on those 90–100-degree days, it's nice to cool off in a backyard swimming pool. But if you're putting one in the backyard of your income property, you'll have to put in a lot of maintenance work to keep it looking nice. You're probably looking at spending thousands of dollars a year on maintenance alone.

There's no denying that a pool can be a very attractive commodity, particularly when you're working to fill a vacant rental property in Houston. But is all of that work and money really worth it? Use this guide to help you decide.
The Costs
One of the first things to consider is how much an inground pool will cost both your wallet and stress levels. Before jumping into a pool install, make sure you know you can actually handle the expenses that come with it.
High Install Costs

Depending on the kind of materials you use, an inground swimming pool could cost as little as $18,000 for vinyl or as much as $50,000 for premium grade concrete or gunite. The average costs about $22,000. The price seems pretty steep, but there's a lot of work that goes into building an inground pool, and it's not a project you can do yourself.
A hired crew will need to dig the hole for the pool, pour the concrete, lay the matting, and have the pool surfaced. There is also a considerable amount of ductwork to consider for the filtering. The entire project can take anywhere from three to six weeks to complete, which means you're paying a significant amount for the labor and the work.
After your crew has created the pool, you'll need to consider the accessories, which might include a deck or patio, poolside furniture, chemicals, pool maintenance equipment, handrails, fence, thermometers, and toys. If you're building a pool in Houston, you'll probably want to consider adding a heater to the pool so it's usable year-round. All of the extra accessories can add up to anywhere from $1,000 to $10,000.
Hefty Maintenance

The other major downside of a pool is the price you'll pay and the time you'll spend maintaining it. Keeping a pool clear and clean isn't as easy as the pool boys on television make it look. If you don't stay on top of the maintenance with the right chemicals and care, you'll be swimming in nasty, green water.
Unfortunately, all of this maintenance can be quite pricey. For monthly maintenance, you're looking at anywhere from $45-$100 a month. This isn't including the items that will need replaced throughout the year, such as the filter, pool vacuum, pool pump, or any leaks. You can plan on around $1000 a year for replacements and repairs.
About every ten years, the pool will also need to be resurfaced, which can cost anywhere from $2000-$5000. If you break all of that money down into monthly increments, you're looking at about $200 per month for pool upkeep.
Doesn't Appeal to Every Audience
A major factor in deciding on a pool is considering your rental audience. If you're marketing towards families, a pool is an excellent commodity. If you're marketing towards retirement age folks, they'll be a little less interested. They'll likely look at the pool and decide that it's too much work and cost for something they aren't going to use. For this audience, a hot tub would be a much better investment.
Liability
Owning a pool that renters use puts you at risk for liability, and it will take a strong contract for you to avoid any repercussions. If someone gets hurt after slipping on the concrete, don't be surprised if you get a phone call from an angry renter demanding that you pay for the injury.
Of course, if you have a strong contract that has been approved by an attorney and landlord insurance, you don't have much to worry about. But if you're forgoing those legalities as a landlord, it's better to leave out the pool.
The Benefits
Even with the costly maintenance and install, there are several perks that come with having a pool, and you might find that for your specific property, those perks far outweigh the costs.
Attracts Renters
Anytime you tell a renter that your home has a pool, they're immediately interested. Even though a pool means higher rent payments, it's often something tenants are willing to pay for the luxury.
A pool is also a sign of a good neighborhood, which is very attractive to higher-end renters. A pool in the backyard is one of the many signs of a more affluent neighborhood, which means better renters and higher income for you.
Increases Property Value
A pool immediately raises the value of your home by anywhere from $20,000-$50,000. Some people will try to tell you that the cost of a pool doesn't balance out with their raised property value, but that's not always the case. You can usually expect to get more out of a property than you put into it when you have a pool.
The pool can also be used as leverage to raise the rent. Since you're looking at putting around $200 a month into a single family home, you can raise the rent at least that much, if not more to make up for the maintenance costs. For specifics on how your rent prices could change, see our rental homes analysis page.
Leaves a Good Taste in Renters' Mouths
Anytime you consider the monetary cost of a home improvement, you must also consider the opportunity cost. As an income property owner, the quality of your property is your brand, and a pool can get you better reviews, tenant referrals, and overall more pleasant tenants.
Easily Maintained by Property Managers
One of the greatest benefits of owning a pool is that if you have the right tools, you don't have to take care of it. You can hire a property management company to do it for you. At Green Residential, no challenge is too large for us to handle. We specialize in offering any of the services you require as a property owner. For more information about how we can help you maintain your property's pool, contact us today!