Maintaining your rental property is about a lot more than just mowing the lawn and fixing leaky pipes. It's also about keeping the interior up to date. You'll have a much easier time attracting tenants and getting return renters if they know the property will reflect contemporary design trends. This is an important lesson to remember whether you're starting a rental property or you're struggling to get tenants to an existing one.
Your interior design efforts will also pay off in terms of raising the rent. When your property has an updated interior, it raises your property value, giving you the opportunity to increase your rent price. Raising the rent while you still have tenants is a tricky business, but this is one method that most renters can get behind.
Interior design trends shift with the season. Things go in and out of style, so it's important to keep that in mind while you're decorating. As a rule of thumb, always include timeless elements in the core design of the property, such as an open concept main floor, great lighting, sturdy windows, and cost-effective, yet durable materials.
Then, when new design trends come out, see if you can add some cost-effective updates without hurting the bank. This will allow you to offer on trend rental properties to tenants, without entirely remodeling the property every few years.
In 2017, interior design trends are mixing elements from the past and the future to create eclectic, functional spaces. Here are some of the top trends on the list:
Terracotta Tiles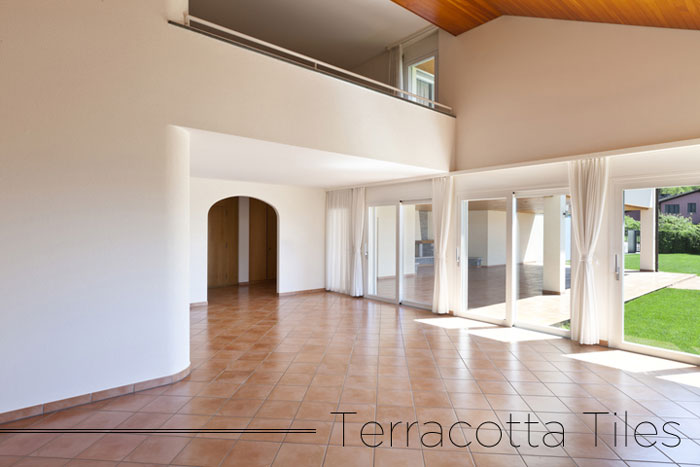 White tiles, hardwood floors, and other cool toned tiles were the flooring choice in the past, but they will soon be taken over by terracotta tiles, the tile of the 80s. Not all terracotta materials from that time period will be acceptable in modern homes, however. They'll have a matte finish rather than a gloss finish, and the colors will match natural tones rather than the wild tones popular 30 years ago. If your rental property is up for a floor refinish, new tiling in the shower, or an update to a brick fireplace, choose terracotta to finish the job.
Cork Walls
Cork is coming back in a big way after it left homes in the early 80s. It's a stylish material that's also very functional for storing reminders, home décor pieces, tacking up grocery lists, and more. People are beginning to create entire walls out of cork material as an accent in the kitchen or off the dining room. Designers are also creating coffee tables, stools, and side tables out of cork materials.
Earthy Pastels
Pastel paint colors that resemble natural earthy colors are covering the walls. Houston designer Marie Flanigan shared some of her favorite 2017 interior design trends from High Point Market, the largest furniture show in the world.
About her trip, she said, "One theme I was seeing was the soft side of spring—spring colors in an earth tone kind of way, [like] blush and lavender. It was a very organic palette; muted, with feminine lines, a lot of curves and softer silhouettes, most of it done in a very tailored, clean way for a softer look." This muted pattern of colors will be appearing on walls, fabrics, carpets, accessories, and furniture in the upcoming year.
4. Vintage Gone Modern
We've been watching vintage looks creep forward over the last few years, and this year is no different. But the vintage items we're looking at now are taking a modern spin. The mid-century-modern décor items of next year include classic campaign furniture, wood patterns, and art deco pieces. The vintage made modern look is easy to achieve with a few extra design pieces in your furnished rental units.
Pink
Every year, we see a certain color remerge. This year, pink is returning in a big way. Over several decades, pink has not been a popular design color for homes unless it's a bedroom for a six-year-old girl. But now it's being used as a strong accent color for rooms. Pink accent walls, coffee tables, and coral-patterned furniture are brightening up the natural-colored spaces of the past.
Places to Escape
As a direct reaction to the technological explosion of the last decade, people are looking for cute places to escape while relaxing at home. Nooks, bay window seats, and other indented spaces are big in home remodels. To complement this element of escapism, designers are developing more relaxed furniture, including deep sofas and lots of pillows to make things more comfortable.
For a rental home, this is a big pull for millennials, the primary audience for renters. They love the idea of being able to escape for a few minutes to check email, social media, and text friends.
Upholstered Bed Frames and Headboards
Bed frames are much fancier now than they were half a century ago. This year, the popular bed frames are upholstered from the headboard to the footboard. Many of the headboards have wings reminiscent of a 60s era wing back chair. The color of these bed frames is typically neutral with neutral colored buttons to make the upholstery pucker.
Jewel Tones
We've already talked about earthy pastels and pinks entering the design realm, and jewel tones are joining them. Emerald green in particular is making a comeback when it comes to furniture and home décor items. These jewel tones are particularly popular with sheer fabrics draped over curtains and around bed frames.
Natural Textures
Millennials are very interested in natural decorations and textures. With your home décor, that means texture in glass, fabrics, and even walls. "Natural texture in general—cane, rattan, abaca. I, as a designer, am very attracted to it… Case goods were even getting more texture by upholstering, by lacquering, putting texture behind glass—Kate Spade did that, the front of the cabinet was wallpaper but behind glass. You could do that with anything you could dream up," says Marie Flanigan. "We were seeing different techniques, including a lot of wire brushing, which helps wood grain pop more."
This is even seen in wallpaper design, where marble wallpaper and other natural textures are prominently-featured themes.
Subway Tiles
In 2016, interior designers are showing preference to subway tiles as backsplashes in the kitchen. Also, white kitchens remain the popular color of choice. These tiles add texture to an otherwise plain, white background. White is gorgeous in kitchens, but only if there are some interesting features to break up the monotony. When it's time to upgrade your kitchen, try using subway tiles for dimension.
Contact Green Residential Today

At Green Residential, we know what's popular when it comes to your Katy rental property. We've been managing properties for more than 30 years in the Katy, Texas area, and we can help you keep your tenants happy and satisfied.
We can also help you choose the appropriate rent increase after your renovation is complete. For more information about the services we offer, contact us today!