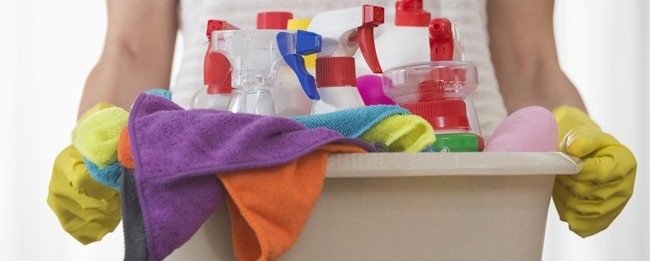 After the tenant moves out, you hope that everything's been perfectly cleaned, and you won't need to lift a finger. Unfortunately, that's usually not the case. As a landlord, most of the time you'll need to go in after the tenant has moved out, and clean a little deeper before the next tenant arrives.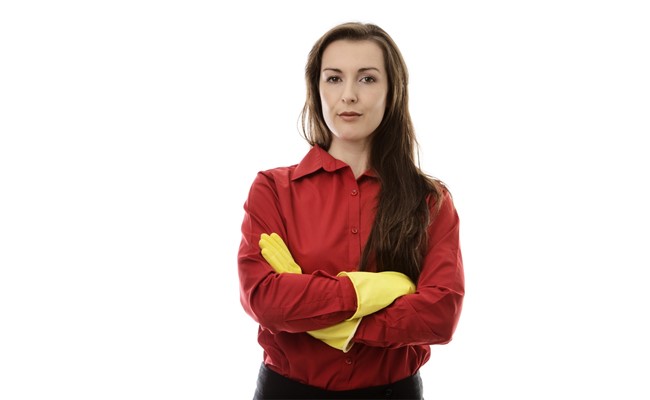 Generally, this type of cleaning is known as white-glove, which refers to an extreme cleaning wherein"immaculate" and "spotless" are the standard. It means cleaning all of the spots off of the blinds, wiping baseboards until they shine, and even polishing the individual slats of the air vents.
When your new tenants arrive, they want to see a clean space, and if you want to make a good first impression, you'll give it to them. If you're not sure how to clean to the white-glove standard, use this guide to get you started.
Gather Cleaning Supplies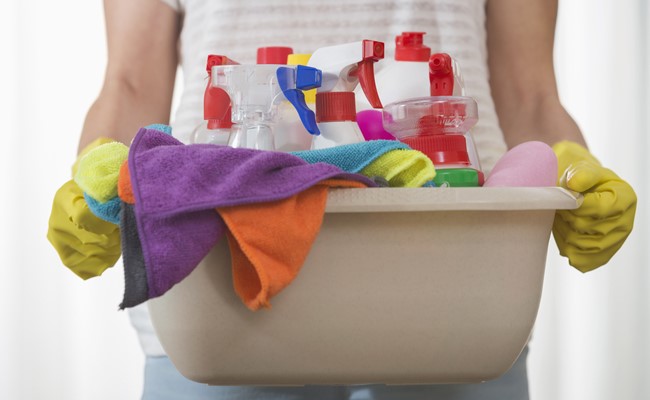 Begin by gathering the necessary cleaning supplies. This is the most important step in cleaning success. It's much easier if you have the right types of materials and tools with which to begin. Here are a few supplies you'll want to collect:
Vinegar: This acidic mixture will be your best friend during white-glove. It has some surprising uses, including removing hard water deposits.
Rubbing Alcohol: Cleaners usually leave a residue. Even if you can't see it looking straight on, if you look at a shiny surface from a different angle, you can usually see streak marks. Rubbing alcohol will remove all of the extra streaks and residue for a perfectly clean shine.
Magic Eraser: This little gem has so many uses, from cleaning baseboards to removing grime in the tub. It really is magic when it comes to removing stubborn marks and stains. Just be careful about using it on walls because it'll take the paint off if you rub too hard!
Brushes: You'll want an assortment of brushes to get into the nooks and crannies. A pack of toothbrushes from the dollar store should do the trick. Q-tips are also excellent for cleaning miniscule corners.
Microfiber Cloths: Microfiber can clean, dust, and polish without soaking up too much of the chemicals. You won't need to switch out your cleaning rags as often, and you can use less product to get the job done. A microfiber cloth takes the place of a duster and a polishing cloth as well.
Dryer Sheets: It may seem like an odd tip, but dryer sheets are perfect for dusting off baseboards and blinds.
Cleaner Varieties: You'll also want a variety of cleaners, starting with all-purpose, which are good for almost any surface. You can make your own by mixing three parts water, one part vinegar, and a few drops of dish soap. For the bathroom, look into getting an abrasive cleaner, such as Comet, to clean the porcelain on the tub and toilet.
Oven Cleaner: A good quality oven cleaner (avoid dollar store brands) left to soak overnight in your oven will remove the bulk of cooked-on messes. Make sure you get the kind that's fume free!
Pumice Stone: Grab one to clean the stubborn ring in the toilet and another for the stuck-on grease spots in the oven.
Go Room By Room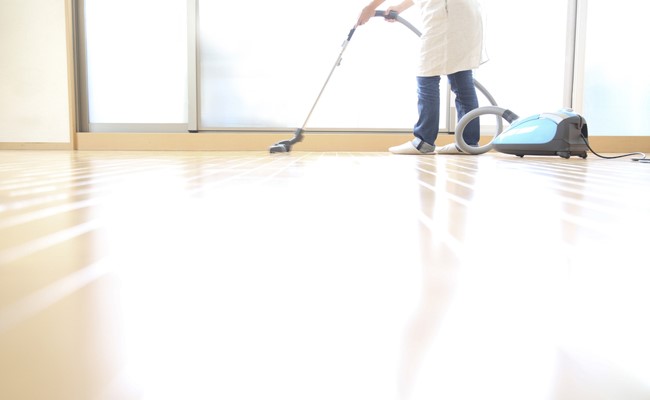 Once you've gathered your handy supplies, go room by room, and take care of what the tenant missed. You'll probably find the most issues in the kitchen and the bathroom. Here are a few tips and tricks you can use to polish those two rooms.
Kitchen
This'll be the most difficult area of the house to clean, but also the most important. Pay special attention to these areas.
Oven: Remove the racks, spray the interior with oven cleaner, and let it sit overnight. Place the racks in a heavy-duty garbage bag,spray them with oven cleaner, and let them sit overnight as well. The grime will wipe right off! Use a pumice stone to remove stubborn stains. Polish the oven with rubbing alcohol and a clean cloth to remove residue.
Refrigerator: Throw any shelves and racks that'll fit into the dishwasher, and run it with a cup of vinegar (this'll clean your dishwasher too!). Wash the rest with soapy water.
Sink: The sink is actually one of the most germ-filled places in the house. Use a disinfectant cleaner and some vinegar to polish the sink. Get rid of odors in the disposal by cutting a lemon into small pieces, putting them down the drain, and turning on the disposal. Rest paper towels, soaked in vinegar, on stainless steel sinks and fixtures for a few hours to remove any hard water.
Floor: Mop the floor with a gallon of water mixed with a cup of vinegar. The solution, in combination with a scrub brush, will remove some of the toughest stains.
Bathroom
Many of the tips used for the kitchen, such as the homemade mopping solution and hard water deposits removal, can be used for the bathroom. Just remember that, when you're cleaning the bathroom, don't reuse any cleaning tools on any other area of the house until they've been thoroughly washed and disinfected. You'll also want to pay attention to these areas:
Toilet: The toilet needs to be spotless if you don't want to scare away potential renters. Use a toothbrush to scrub out the nooks and crannies to remove any germs. For any rings in the toilet, use your toilet brush to push the bowl water back into the tank. Then, take a pumice stone, and scrub away at the ring. It should come off fairly easily.
Bathtub: Don't mix cleansers when working on the bathtub. It'll result in a dusty residue, and you'll have to clean the tub twice. For bathtub rings, use a mixture of baking soda and water, and then, use a magic eraser to remove excess stains. Use rubbing alcohol and a clean cloth to polish the bathtub, and remove any residue.
White-Glove with Green Residential
After-tenant cleanup isn't an easy job. It's time-consuming, back-breaking work, and not everyone has the time or patience to handle it, but we do. We at Green Residential can take care of every aspect of the tenant move-out and move-in process, including extra cleaning. For more information about how we can make this process easier for you, contact us today!