Are your Katy-area homes handicap accessible or disability friendly? The reality is that most are not. After all, handicap renters only make up a very small fraction of the population – and it can be expensive to make such modifications.
With this being said, there may come a time when you either choose to integrate some disability-friendly modifications into your rental property to make it more appealing or accessible, or you have to do so in order to meet the needs of a particular tenant.
In either of these situations, you must be prepared.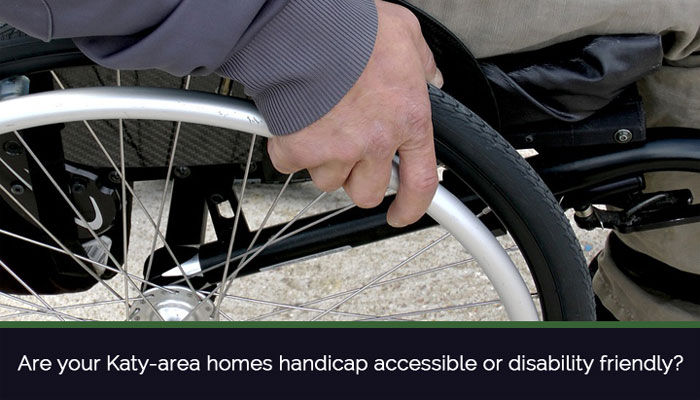 Housing Rights and Laws
Does my Katy rental property have to be disability-friendly or handicap accessible? In other words, is there a law that stipulates you must be prepared for disabled renters? This is a question we've all thought about at least once.
Here's what you need to know:
Who Qualifies?
The Fair Housing Amendments Act and the federal Fair Housing Act both forbid discrimination of tenants – or even prospective tenants – because of a disability (or the disability of a person they're associated with).
Specifically, the law protects the following three classes of individuals: (1) A person with a physical or mental disability that "substantially" alters or limits their ability to perform at least one major life activity. (2) An individual that has an official medical record of a disability. (3) An individual who is considered by others as having a particular disability.
Some examples of disabilities as constituted under the federal Fair Housing Act and Fair Housing Amendments Act include mobility, hearing, or visual impairments, chronic alcoholism (with treatment), mental illness, mental retardation, and HIV or AIDS.
You May Not Ask Discriminatory Questions
If a tenant or prospective tenant doesn't directly ask for accommodations, the Fair Housing Acts actually prohibit you from asking about their condition. You also aren't permitted to ask for or read medical records.
Ultimately, you – as the landlord – must treat disabled applicants and tenants exactly the same as you would an application or tenant without a disability. This also means you cannot guide applicants to specific rental properties in their search process.
The Right to Accommodation
"Disabled tenants may request the landlord make reasonable accommodations to rules, policies, practices, or services when it will afford the person equal opportunity to use and enjoy the rental unit and the common and public areas," FindLaw reports.
Reasonable accommodations include things like permission to use a service animal, a request to have a parking space closer to the unit, or permission to mail the monthly rent check as opposed to dropping it off in person.
There are also plenty of accommodations that a renter may ask for that aren't considered necessary or reasonable. For example, a disabled tenant cannot choose to live on a third floor apartment and then expect the landlord to install and pay for an elevator.
The Right to Modification
There are certain things that landlords aren't required to do, but that disabled tenants may be allowed to modify at their own expense. These include things like wheelchair ramps, lower countertops, and special door handles.
"If the modification will create an inappropriate living condition for the next tenant, the landlord may agree to the modification upon the condition that the tenant restore the unit to its original condition prior to leaving," FindLaw notes.
5 Appealing Disability-Friendly Features
If you ever have any question about whether you can do something in regards to vetting a prospective disabled tenant or adhering to their requests, it's best to speak with an attorney.
However, there are times where you may choose to modify one of your rental properties in order to create an environment that's conducive to disabled tenants. Maybe you have a friend or family member moving in, or you know of a long-term tenant who's interested in the place.
If so, here are some of the most appealing disability-friendly features you can install:
Entrance Ramp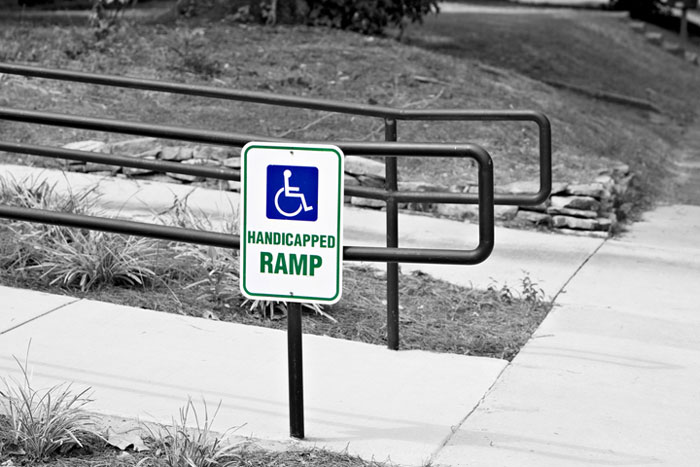 If a tenant uses a wheelchair or is otherwise walking-impaired, it may be necessary to include an entrance ramp (as opposed to steps). These ramps can be made from wood, aluminum, or may even be poured concrete. The former two options are cheaper and removable, while the latter is obviously a permanent solution.
Wider Doorways
For individuals with wheelchairs, it's sometimes necessary for doorways to be widened. Whether it's an entrance door or interior door, the width should be at least 32 inches. One of the most popular solutions is to switch from a standard hinge system to the "swing-away" style. This lets doors open a couple of extra inches, which may be enough for clearance.
Single-Lever Faucets
For people who have limited movement in their hands and fingers, standard sink faucets can be difficult to control. The twisting motion isn't always safe or easy. It's better to install single-lever faucets, as they can more easily be manipulated to turn the water on and off.
Bathroom Modification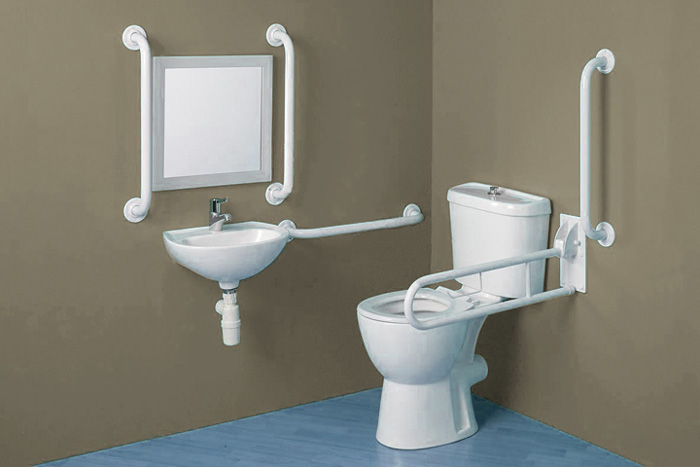 Bathroom modifications are big. These can also be some of the more expensive aspects to deal with. Consider replacing the traditional bathtub with a handicap accessible tub or shower unit. You may also need to raise the toilet and install sturdy hand bars around it.
Lower Countertops
In the kitchen and bathroom(s), it may be necessary to lower countertops for certain disabilities. It could also be necessary to remove some of the floor-level cabinets in the kitchen to allow for more maneuverability of a wheelchair. Again, this is more of a permanent modification and can get expensive.
Green Residential: Professional Property Management in Katy
At Green Residential, we're considered Katy's go-to professional property management company. Our affordable flat rate management fee includes services like rent collection and distribution, tenant screening, maintenance and repair coordination, property inspections, property marketing, monthly accounting reports, and more.
Managing your own Katy properties is never a good idea and we'd like to help ease some of that burden. Contact us today and we'd be happy to discuss what a long-term working relationship could look like!