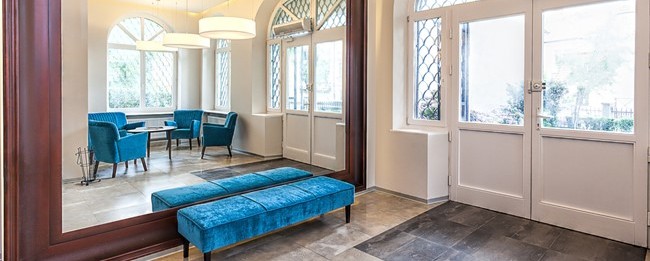 If you're looking to sell one of your properties, appearances are everything, or almost. That's why staging is such a key part of the home sales process. Staging refers to setting up your home in a visually appealing way. While some staging advice will cost you a pretty penny, there are plenty of ways to clean up your property on a budget. Here are nine things your staging should prioritize to speed up home sales.
A Fresh Coat Of Paint

Paint is one of your most powerful tools when it comes to staging. Give scuffed walls a fresh coat in a light neutral color and consider adding a pop of something bright to the external trim. You want your home to read as a blank canvas – as anything your buyer might want. Avoid bright colors inside the home though – even a bedroom in the wrong color can be perceived by buyers as just one more thing they'll need to change, and that extra work can lose your property its place on the short list.
Check Your Reflection

If you're concerned that major gathering spaces in your home look a little small, consider adding a few mirrors. Mirrors are an inexpensive way to make a home look bigger, but they steer clear of adding too much personality to the space at the same time. Make sure to keep it appropriate, though; mirrors in the kitchen will seem strange, but mirrors in the dining room can be classy. It's all a matter of context.
Use The Sniff Test

When it comes to eliminating home odors, you may need some outside help. We all notice when someone's home has a distinct smell, but most of us will deny that our homes have one. Now is the time to ask a good friend what your home really smells like. Once you know, then it's time to strip it away.
Top priority on the list should be getting rid of pet odors. If potential buyers are distracted by the scent of litter boxes or wet dog, they aren't going to seriously consider your home. Go deep with a carpet cleaner, get rid of old area rugs, and if necessary see if you can place family pets with a friend while your house is being shown.
Other home odors to be aware of include diaper pails, garbage, and even craft supplies or your fancy cologne. If your home is going to smell like anything during staging, use the fresh baked cookies trick – far better for your home to smell like mom's chocolate chip cookies than last week's meatloaf.
Pack It Up
A staged home shouldn't be empty, but it also shouldn't look like anyone lives there. There should be furniture, but no family pictures, sentimental craft projects, or even evidence of individual passions. Homebuyers don't want to filter through your porcelain doll collection or baseball posters to imagine what the space would look like redecorated with their style. Put away the personal knickknacks and keep it neutral.
Fill The Gaps
If you're going to strip all of your personal decorations from the home as part of the staging process, that may mean revealing some serious wall damage. Luckily, it doesn't take a contractor to add some spackle where a hook used to be. Do this before you add that fresh coat of paint and no one will know there used to be a hole.
Research The Big Sellers
When selling a home, owners often spend excess on improvements that don't significantly improve the value of the building. For example, granite countertops are popular, but they're also extremely pricy. Instead, try resurfacing your current counters for a more affordable and visually appealing look.
On the other hand, there are some less expensive moves that are overlooked but will get you a real bang for your buck. Pedestal sinks are a great example of this kind of upgrade. Ditch the old vanity sink and install a simple pedestal sink in the master bathroom. Buyers see it as a touch of class and it won't put a huge dent in your wallet.
Give Rooms Clear Definition
You might think that pegging that extra room on the first floor as a multipurpose room will expand its appeal to buyers, but this kind of vague room definition can actually work against you. Instead, make sure every room in the house has a clear purpose. Only place furniture that matches the aim of the room – that means no piano in the dining room, unless you're advertising dinner theater. This can be tricky with those extra spaces, but it doesn't matter how you define it – game room, home theater, office – just make sure the purpose is clear.
Don't Forget To Landscape
The outside of your home is also part of the staging. Fill in dead patches on the lawn, plant some flowers or new shrubs below the front windows, and generally make the outdoor areas visually appealing. Much like the rest of your house, you don't want to add too many personal touches to the outside. Put away the toys and pack up your pink lawn flamingos – not everyone will share your taste in lawn ornaments, but a well maintained flowerbed is always a nice touch.
Capture It
Part of the beauty of staging is that it not only prepares your home for walkthroughs, but it also makes your home easy to photograph for listings and virtual tours. Home photography takes a little expertise and sometimes some professional equipment, but with the help of Green Residential's home sales team you can capture your home in its best light. This offers homebuyers the opportunity to get a real feel for your home, even before their first visit.
Expertise Matters
If you're ready to put your home on the market, then it's time to call Green Residential. With over thirty years of property management experience, our team can move your home from staged to sold in no time. Let us help you make the process picture perfect.