Everybody says you get what you pay for. This is especially that case in today's real estate market.
Given the number of inspections, certifications, and approvals that go into a transaction, you can bet you're going to pay a figure that's comparable to similar properties in the neighborhood. So if you're expecting to get a $500,000 property for $200,000, that's just not going to happen.
However, if you want to get more bang for your buck, you might consider a fixer upper. You're still going to get what you pay for — in this case, a whole lot of issues and renovations — but the opportunity to enhance the value of the home fairly quickly is a real possibility.
Squashing the HGTV Myth
If you've spent a lot of time watching HGTV, then you might have fallen victim to the dangerous assumption that fixing up old properties and transforming them into gorgeous, modern homes is relatively easy. They can fit the process into a tidy 30-minute TV segment, didn't they?
Well, yes … but that's cable TV for you. Let's be clear about one thing: Fixing up an old home is not easy. In fact, you'll have moments of regret, you'll see your live savings flash before your eyes, and you'll probably want to pull your hair out at least once.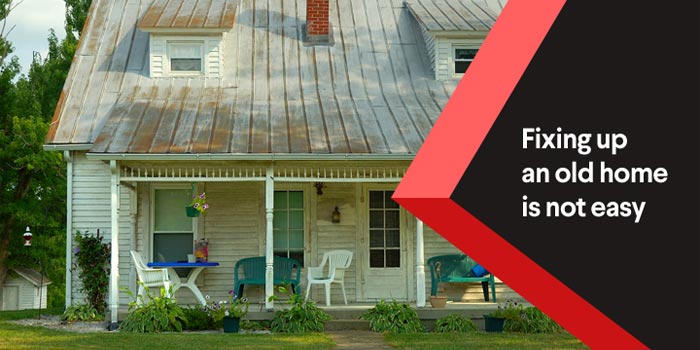 You'll need to set some pretty strict ground rules from the start. This means adjusting your offer based on the anticipated cost of renovations, finding a way to finance the renovations, creating a timeline for completing individual projects and restricting personal obligations.
The last is particularly crucial. You're going to have no life outside of your house for at least the first few weeks. You'll be ripping up parts of the home, making trips back and forth to the hardware store, overseeing contractors, and meeting with inspectors.
If you have other important personal obligations that won't allow you to spend the majority of your time working on renovating your home, then you might wish to reconsider what you're doing.
Now that we've said all that, however, if you approach a fixer upper with the right mindset — and have the intestinal fortitude to handle the issues that come your way — then you'll be fine.
Just don't expect it to look anything like an HGTV show.
Five Solid Reasons to Buy a Fixer-Upper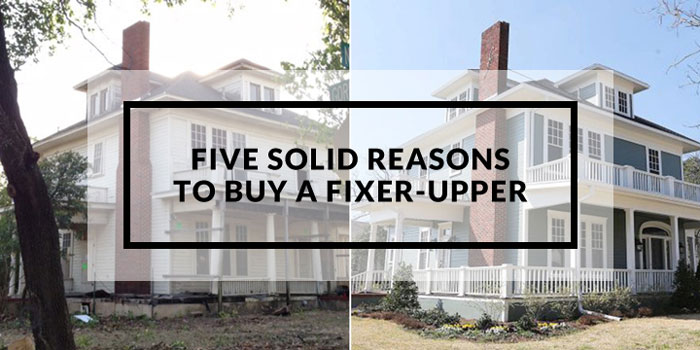 Now that perhaps we've pulled you back down to reality, let's look at the other side of the equation. Buying a fixer-upper can be advantageous for many reasons. Below are a few of them.
Ability to Afford Your Dream Neighborhood
Many people have a dream neighborhood where they'd someday like to live. The number-one factor that stands in the way of purchasing a home in one's dream neighborhood is money.
Nobody wants to be house poor, and it just doesn't make sense to blow your life savings on a residence. So most people continue to live their life and assume that their dream neighborhood may remain just that: a dream.
But what if your fantasy could become a reality? When you open yourself up to buying a fixer upper, it does. The willingness to buy a home that needs some work can suddenly empower you to purchase into a pricier neighborhood.
In a few months or years, nobody will even know you purchased your home well below market value. The same goes for houses in good school zones. If you really want to be in a certain school zone for your children, a fixer-upper may be your best strategy for getting there.
Opportunity to Afford More Square Footage
The same is true for the size of the place. Although you might be able to afford only 1,800 square feet in a normal market, you might be able to get 2,500 square feet at the same price if you're willing to put in some elbow grease and tackle a few renovations.
Once you're brought the house back up to a standard that others buyers will expect to see, you'll have a home that has an extra bedroom or bathroom and is worth thousands of dollars more.
Chance to Make it Yours
One of the primary reasons people buy fixer-upper properties is for the opportunity to make the space their own. Instead of purchasing a home in which someone else designed the layout, chose the materials, and dictated where different elements were placed, you can buy a basic structure and then take charge.
It's like building your own home without having to go through the lengthy process of drawing plans and constructing it from the ground up.
Instant Equity
Unless you plan on flipping the property after fixing it up (and that's an entirely different subject), you're probably planning on living in your new home for at least a few years. When it does come time to put the home on the market, however, you'll love the fact that all your hard work and sweat has instantly turned into equity.
By making smart renovation decisions and doing some of the work on your own, you can easily infuse thousands of dollars more into the list price.
Learn New Skills
If you're a handy person (and you should be if you're planning on buying a fixer-upper), you'll absolutely love the projects and renovations that will take place in the coming months and years. Not only will it give you a creative outlet for your energy, but you'll also learn new skills that can be used repeatedly in the future. Life is a learning process and a fixer upper will educate you rather quickly.
Contact Green Residential
Green Residential is one of Houston's premier property management companies … and we have been for the past 30-plus years. If you ever end up wanting to rent out a property that you fix up, then we'd love to hear from you.
Our comprehensive property management services include everything from property marketing and tenant screening to maintenance coordination and evictions. And should you ever decide to sell your home, we can handle that too. We bypass the standard commission structure and offer a flat-rate fee, which allows you to keep more money in your pocket.
For more information on any of our services, please pick up the phone and contact us today. We look forward to hearing from you!