A great thing about online real estate is that properties basically sell themselves once they're posted. The market is humming along right now: homes are selling quickly and for a good profit.
But you still have to know how to sell your properties, especially now that so much of it entails online listings. Whether you're selling your personal home or seeking to profit from real-estate investing, understanding the pricing and general financial conditions is only the start.
As you prepare your property for selling, you'll probably choose a few online listing sites such as Zillow, Trulia, Realtor, and Homes.com. After familiarizing yourself with the style of each website and the listings that appear there, you'll write your own descriptions to post to each site.
For some Realtors, this is the most difficult task of the entire online home sales process. Taking photos, crafting compelling entries, and highlighting the best aspects of the property takes a lot of work, and it's not a talent that comes naturally to everyone.
Your listing will be most effective in attracting high-income buyers if it employs the right tactics. Here are some things you should keep in mind when you compose your home listings.
Work on the Structure
Good listings always have a strong, coherent structure so they read smoothly and deliver information in a compelling order. To ensure yours follows this pattern, start with an outline.
You'll begin with an attractive headline that catches attention. Then you'll progress to an opening statement and a detailed yet concise description of the outstanding features of the property.
If you're planning a special promotion, such as offering to pay the buyer's closing costs if he or she makes a bid within a certain frame of time, you'll want to include that next to sweeten the deal. Close with a compelling call to action and your contact information.
Your structure may vary from this if there are other details you wish to highlight in your piece. But it's always wise to start composing your listing with an outline that you fill in as you go.
Hook Viewers with an Opening Statement
The first sentence of your listing has to grab some attention and explain why viewers should continue reading. Ideally, this will inform them immediately about what they're seeing in the listing and simultaneously make them desire to know more.
For example, you might say "Charming three-bed, two-bath country home that's just eight minutes' drive from Houston City Center." Include something in your opening statement that piques readers' interest even if they don't see a picture.
Highlight the Bests
In your description section, you'll want to devote plenty of space to the best facets of the property. Here are some of the things you'll likely wish to talk about:
Number of bedrooms and bathrooms
Square footage
Acreage of the site
Location and proximity of schools and other neighborhood amenities
Garage and number of stalls (if applicable)
Extra attractions, such as a pool, deck, patio, garden, fireplace, balcony, etc.
Speak about each of these items in detail, and use your words to make the amenity sound great on its own. Then back this up with high-quality images.
Highlight Upgrades
In the description, you'll also want to discuss any upgrades or renovations that have been made in the recent past. Any listing that employs some form of the phrase "newly renovated" immediately grabs more attention. When it comes to a home, the newer things look and feel, the more interest you'll attract.
Practice Your Wording
Words can sell real estate faster than anything if they're well chosen. As you write, think of how to make each sentence more compelling. Try to create imagery with descriptive nouns and active verbs.
You might try to arrive at something like this example from Market Leader:
"A meticulously restored 1933 jewel on Queen Anne's desirable south slope, boasting iconic views of the Seattle skyline & Elliott Bay. Perched above the city and bay on a light-filled 18,900 square foot lot, this true in-city compound features mature, manicured grounds, terraced gardens, a gated entry & courtyard, elevated pool deck with pool house, outdoor kitchen & fireplace, sport court, & two extra-large 2-car garages. Elegance, privacy, & sophistication combine. See the city as it was meant to be seen."
If you're not sure you have the necessary talent to sell your property quickly, hire someone to do it for you. Websites like Guru, Freelancer, or Fiverr feature talented writers who are willing to write short copy at an affordable rate.
Even though it'll cost more than doing it yourself, you'll find that their expertise and ability to handle words skillfully is well worth the investment.
Get Quickly to the Point
Concision is vital for real estate listings. Though you want your listing to be well worded, buyers won't spend much time reading through long, flowery descriptions. Make sure you get to the point quickly, but with pointed details.
Use Multimedia
Words are powerful, but even more can be said with great photos and video clips. Hire a photographer to take and edit property photos for you. He or she can make a home look better online than simple smartphone photos can.
Also, give the power of video a try. According to an Australian Real Estate Group, listings that include video receive 403 percent more inquiries than those that lack it. Videos give potential buyers the opportunity to walk through a home virtually, which is extremely worthwhile for potential buyers who are planning — or contemplating — a move from very far away.
Make It Easy to Contact You
A great listing won't get far if viewers don't know how to contact you after they finish reading. Let your contact information stand out, and feel free to repeat it a couple of times so it's easy to locate for the viewer. Most listings place the contact information strategically below the listing photos as well as at the bottom of the description.
Write a Compelling Call to Action
Finish off the listing with a great closing statement and call to action that lets the reader know exactly what to do with the information he or she has just read. Avoid high-pressure tactics, but feel free to inject a sense of urgency in the listing. Make readers feel that if they don't act quickly, the property will be gone and they'll be out of luck.
Enlist the Help of the Professionals at Green Residential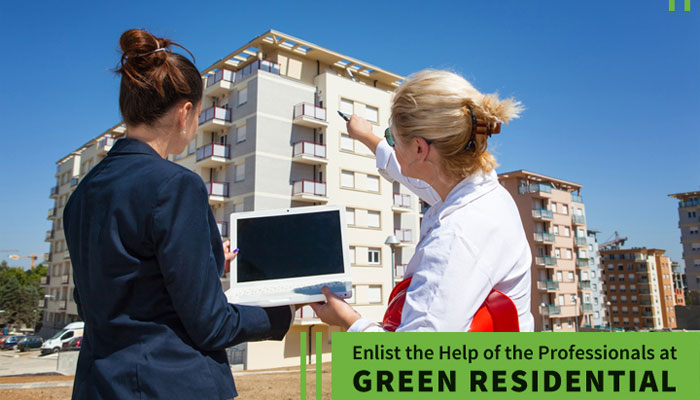 Think you might need help crafting your amazing property listing? Green Residential and its talented team of sales professionals can help.
With more than 30 years of experience in the real estate field, we've seen and written our fair share of listings, particularly for the Katy and Houston areas. For more information about how our team of professionals can help you sell your property quickly, contact us today!