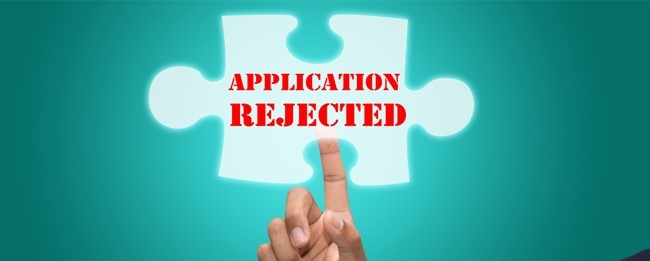 The idea of denying or rejecting a tenant application is frightening to the average landlord. Most approach the issue with fear and trepidation and believe any slight misstep could land them in hot water. And, while this is true to some extent (you don't want to illegally reject a tenant), there are plenty of ways to go about rejecting a tenant in accordance with the law. You simply need a firm grasp on the issue.
Learning How to Say No

The problem many landlords have with rejecting tenant applications has less to do with the various legal ramifications that could arise, and more to do with a hesitancy, or inability, to say the simple word, "No." According to Vanessa Bohns, an assistant professor of management sciences, it all comes down to the motivation we have to please people. "We don't want people to think poorly of us…so we are really managing the impressions other people have of us," she says.
If you have trouble saying no, now is the time to overcome your fear. Here are some things to understand:
• It's freeing and empowering. Once you learn how to say "no" to people, you'll feel a sense of freedom and empowerment. It allows you to prioritize your goals and stop wasting time.
• It's all in the delivery. Saying "no" is less about the actual word and more about the delivery. By carefully considering your body language, tone, and connotations, you can change how a denial is received.
• It's okay to be selfish. Finally, you have to understand that it's okay to be selfish – in certain circumstances. One such circumstance is when you have financial considerations on the line. If saying "no" will protect your financial well being, it's okay to be selfish.
Regardless of whether you're a landlord, teacher, babysitter, or CEO, learning to embrace the word "no" is necessary. The sooner you realize this, the better off you'll be.
Legal Reasons for Denying an Application

When it comes to denying a tenant application, you have to understand that it's not illegal to say "no". Over the past few years, there's been so much focus Fair Housing laws, and the legal consequences of denying a prospective tenant, many landlords have forgotten that there are valid reasons for turning down a tenant. This deserves repeating: there are valid reasons for denying a tenant application. So, what are some of them?
• Bad references. The references you ask for on an application are there for a reason. They allow you to see who a person really is and what others think about them. If you contact a prospective tenant's references and find them unsatisfactory, you can use those claims to deny an application (just make sure the claims are true and that they fall under one of the other legal reasons mentioned here).
• History of evictions. If you run a background check and discover a tenant has a history of evictions, you can legally deny them based on their probable inability to pay rent on a regular and timely basis.
• Bad credit report. You can also deny a tenant if they have a bad credit report, have significant debt, or have a judgment for an outstanding debt. All of these are indicators that they have financial issues and may not be able to pay rent.
• Smoking habits. Contrary to popular belief, smokers are not a protected class of citizens. The tobacco companies won't ever let this happen, as it would be a clear indication that the products they sell are dangerous and addictive. So, you are fully allowed to discriminate against smokers.
• Insufficient income. Even if a prospective tenant doesn't have any existing debt, you can deny their application if they have insufficient monthly income. In other words, you can say "no" based on the fact that they don't make enough money to pay rent and all other necessary expenses.
• Owning pets. Because pets are known to destroy properties, and you have the right to set your own house rules, you can deny an applicant based on their ownership of pets. It is completely within your rights to disallow pets on your property.
• Evidence of illegal activity. If you find out from a reference, background check, or personal observation that a prospective tenant engages in illegal activity – or has a history of offences – you can deny them. This may include sexual misconduct, drug use, prostitution, assault, or any other charge.
This is by no means a comprehensive list, but rather the most popular reasons for denying a tenant application. However, whenever you have a question regarding the legality of saying "no," it's a good idea to double-check with a lawyer.
Tips for Properly Rejecting an Application

If you're going to deny a tenant application, you need to do it the right way. Here are three of the top ways to properly reject an application:
• The LPA Denial Letter. If you've found a legal reason to deny a tenant, you can send them an official LPA Denial Letter, which has a pre-formatted list and allows you to check off the reason for denial.
• An Adverse Action Letter. If the rejection is based on negative information found in a credit report, you can send an Adverse Action Letter in compliance with the Fair Credit Reporting Act regulations.
• A non-rejection letter. The final option is to simply not reject them at all. If you find another tenant more suitable, and accept them based on relevant facts, you can deny the other one and simply tell them that they were considered, but you found a more qualified tenant.
Green Residential Professional Property Management
At Green Residential, we understand that it's not always easy to be a landlord. You're obligated to be kind, ethical, and profitable. That's why we make it our burden to carefully and cautiously handle situations and processes for our clients – even if it means saying "no." In fact, we've been involved with Houston property management for more than three decades. For additional information regarding how we can help you better manage your properties, please contact us today!