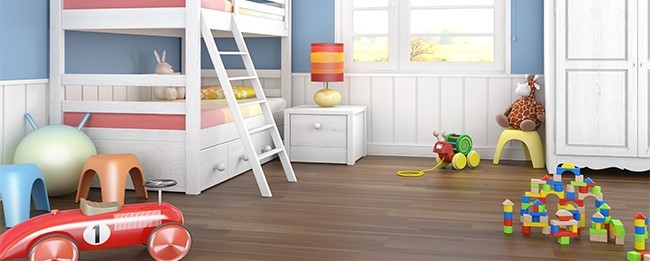 One of the most common reasons that people move from an apartment to a home is the arrival of children, but young parents often aren't in a position to buy a home, so they turn to rentals. This can be great news for landlords, but it can mean a change in tactics. To rent to families, you need to understand the difference between what childless adults look for in an apartment, and what families with children are looking for. With some simple adjustments and a new emphasis, however, landlords can welcome families with open arms.
A Different Perspective On Open Plan Kitchens

Open plan kitchens are a very popular feature in homes, regardless of the rental demographic, but families bring a new perspective on this kind of space. For families with young children, an open plan kitchen means being able to do the dishes or prepare meals while keeping an eye on children in another room. Giving kids a view of mom can also keep them out from underfoot while she works.
If your property features an open plan kitchen, make sure to mention this aspect in your advertisements. When renting to families, this kind of convenience and security outranks issues like how many burners the stove has or what the countertops are made of. Parents have different priorities than the childless adults you may be used to renting to.
Finding Room To Play

For families with children, one of the most vital features of a rental home is that it has room for the kids to play. Whether this is a fenced in yard or a family room where everyone can spend time together, space is a premium feature for families. If your rental home has both of these features, you may have a family rental goldmine on your hands.
If you aren't used to renting to families, it's helpful to realize that a family room or den can literally be any room in the house that doesn't seem to have a clear function. In some cases, this might simply mean subtracting a bedroom and reimagining that space as one meant for family gatherings. Redefined in this way, you open the house to young families in a valuable way.
Highlight Your Storage
Kids have stuff – a lot of stuff – and families need a place to put it all. For landlords who are trying to market their property to families, highlighting the built in storage features is a great way to enhance your appeal to parents.
Built in storage is especially coveted by people with children, worried about the dangers posed by freestanding storage structures like bookshelves. It's preferable to these parents to move into a space where the storage is a structural feature, because then they don't have to anchor every shelf to the wall, which can be laborious (as well as unpopular with landlords who prefer their walls without holes).
Expand Your Ideas Of Family

When we talk about marketing a rental property to families, there is a general understanding of families as consisting of two generations – parents and their children. This is no longer the norm for many American families, however. Instead, it's become common to have a third generation in the home today, as many adults take on the care for their aging parents. Having grandparents on site can also be a bonus source of childcare assistance for young families.
Homes that feature a second main living space, or at least two master bedrooms, are ideal sites for these intergenerational families. If your rental property includes such spaces, make sure to emphasize it. Even for families that don't currently have an elderly family member in residence, having the option should the need arise is often highly valued.
Think Outside The Home
As a landlord, you may think you have a pretty good sense of your local surroundings, but are you well informed about the kinds of features that families prioritize? For example, what is your school district like? Is there a park in walking distance of your property? These are the kind of neighborhood concerns that families have. In fact, particularly for families with school age children, school district can be a more important factor than anything inside the home.
Consider assembling some fast facts about the family friendly features of your neighborhood. Families will greatly appreciate any information you can share with them about local school options and activities for children in the area.
Give Your Space A Facelift
The last thing families with small children want to do is perform a lot of home maintenance and improvements. While they aren't looking for a perfectly, newly renovated property (they probably worry that the kids will damage it), parents do want to live in a home that is in good overall shape. To prepare your rental property, you should cover the key renovation points. This includes installing easy to clean carpet that hides stains, giving the outside of the house a good pressure washing, and installing simple and appropriate lighting.
It's also a good idea to take a look at your appliances before renting to families. If your appliances are long out of date and at risk of breaking down, you may jeopardize your popularity with families. No parent wants to find themselves without a refrigerator for several days while trying to care for a young child. While this can be an expensive upgrade, keeping an eye on appliance function is vital.
Green Residential Knows Families
At Green Residential, we help landlords make the most of their properties. If you are considering renting out your house to families, our team of experts can help you paint your property in the best possible light. Contact our team of experts today for a consultation. We understand the ins and outs of being a Houston area landlord. With our professional guidance, your property can stand out from the rest of the market. Now is the time to make the most of our expertise.